Residential Tile & Grout Cleaning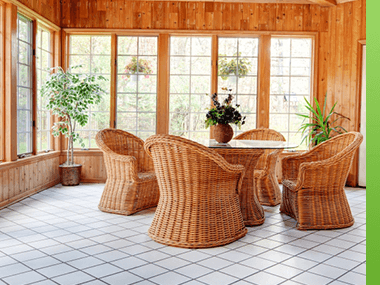 Restore Your Tile And Grout
Tile is a type of flooring that is manufactured from a variety of materials such as stone, clay, metal, quartz, and terrazzo, and can be a beautiful and durable alternative to carpet and hardwood flooring. While it can completely transform the aesthetic of a room, you may have noticed that over time it doesn't look as good as it once did. It may feel as though no matter how much you sweep and mop your tile, you can't seem to clean out the dirt and debris that is trapped deep within the grout of your tile. All tile floors will need restoration over time, regardless of where it is in your home. Our expert team is here to provide you with quick, efficient, and affordable tile and grout cleaning services.
Tile and the grout that binds them together will show discoloration over time by nature, but with Steam Master Cleaning and Restoration's tile and grout cleaning services, we take care of everything for you so that you don't need to worry about what has caused these stains and discoloration. With our steam cleaning and tile and grout cleaning services, we are your go-to team for all of your floor cleaning needs.
---
---

A Clean Home From Head to Toe
Tile flooring is typically thought of as an easy option to clean and maintain, as you can go over it with a broom or vacuum to clean up any crumbs or dirt, and then glide a mop across it to polish it and wipe off any remaining dirt. It is definitely a nice perk after all of the attention and care that your carpets need. Your tile and grout do occasionally need a bit more TLC in order to keep them in tip top condition, though.
Grout is thought of as the glue that holds your tile floor in place. However, because it is a porous substance, it is more closely similar to mortar than glue. Tile grout is a type of fine sand cement that may or may not be sealed (depending on the type of tile) in order to protect the porous mixture that is holding your tile floor in place.
The color of cement-based grouts can be changed depending on the materials that are mixed in. While the color will typically fall in the white to gray range, additional fun colors like red or blue are slowly becoming more and more popular. The unfortunate thing about grout being a porous substance is that the color isn't guaranteed to stay pristine. In fact, if you have just moved into a new home or apartment with pre-existing tile flooring, they may have started as white without you even realizing it! This really puts into perspective how much accumulated dirt and grime could be surrounding your tiles.
Why Grout Maintenance Matters
Tile flooring greatly differs from carpet and hardwood by the way it is installed. Wood floors stay together because of the tongue, groove sides, and small nails, and carpets get tacked down to keep it in place. Tile flooring, on the other hand, is only kept in place by the durability of the grout cementing it to the subfloor and the surrounding tiles. By providing your tile flooring with proper care and attention, your tile floor will stay together and remain in good shape much longer than without professional tile and grout cleaning services.
Without regular, in-depth cleanings, it typically opens the door right up to damage. Damaged grout can quickly lead to tiles cracking or peeling up, resulting in easy access for moisture and grime to work their way deep between tiles to spread more damage. Humidity in the air combined with dirt and dust particles can lead to mold and mildew problems when they become caught up in the grout. When your floor reaches this stage of damage, you may need to pull up the entire floor, carefully scrape grout off of the tiles, and replace the grout completely, as small repairs might not be possible. To stave off those issues, it is highly suggested to have routine tile floor cleaning and maintenance.
Caring For Tile Flooring
There are a couple different levels of care to keep in mind in order to keep your tile flooring in good condition. The base level is to provide regular, consistent tile and grout cleanings by grabbing the mop and bucket at least once a week, and using a tile floor cleaner to get rid of any grime and gunk build-up from the tiles and surface of the grout. It is suggested to do these cleanings weekly as the grit and grime that accumulates from foot traffic can cause the grout to wear away more quickly.
The second level is to spot clean as needed, and be sure to soak up any liquid spills quickly after they happen. It is also a good idea to go over these spills with warm water, tile floor cleaner, and a mop in order to ensure that all of the residue from the spill is removed. While a little spill might not seem like much, sugary residue from a simple spilled soda can not only wear away and stain grout, but also wear the finish away on the tiles themselves.
The third level is to get routine professional tile and grout cleaning services on top of routine care. At Steam Master Cleaning and Restoration, we utilize specialty cleaners and high-end equipment to help clean off all the accumulated dirt and gunk on your tile floor, including your grout. We begin by inspecting the current state of your flooring and then choose an appropriate tile and grout cleaner based on the type of tile and level of damage. We also use the latest in steam cleaning technology in order to break down grease and grime — without causing damage to your floors. After the deep-clean, you will likely be surprised by the true color of the grout that has been hidden by all that gunk!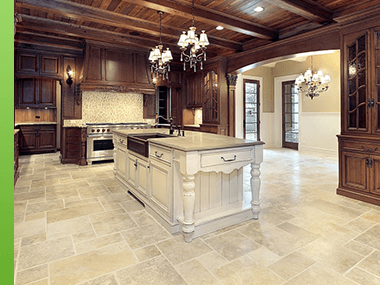 How Often To Have Tile Floors Professionally Cleaned
There is no set time limit in regards to how frequently you should be getting a professional tile and grout cleaning, as every living scenario is unique. It will greatly depend on the state of your tile and grout, as well as the amount of traffic and spills that occur. For example, a family with children or pets may need to have their tile and grout cleaned more frequently due to the spills and dirt pets carry inside. An easy way to indicate whether or not you should schedule a professional cleaning is by observing your tile's sheen and the color of your grout. As your flooring begins to look dingier and dingier despite at-home mopping and spot cleaning, that is a tell-tale sign that it is time for the professionals to come in. Connect with us at Steam Master Cleaning and Restoration to learn more about our tile and grout cleaning services!
Our goal is to remove all mildew and dirt from deep within your grout's pores.
We take our time to closely inspect your tile and grout during your appointment in order to perform a treatment that is best for you. We have worked with a plethora of different tile types, coming in contact with a variety of different surfaces. You can trust our expert team to provide you with an effective and affordable tile and grout cleaning specific to you. At Steam Master Cleaning and Restoration, we have years of experience under our belts and high-end equipment to effectively clean your tile and grout — leaving you with floors that glisten and shine.
By using the latest in steam cleaning technology and techniques, we bring your tile floors back to life — contact us to schedule your professional tile and grout cleaning services today!